one of the first events of its kind, established 2016 
LET YOUR FURRY BEST FRIEND TAKE YOU FOR A 5KM RUN / WALK!
LOCATION: ANYWHERE
DATE: 1ST JUNE – 30TH SEPTEMBER 2021
TIME: ANYTIME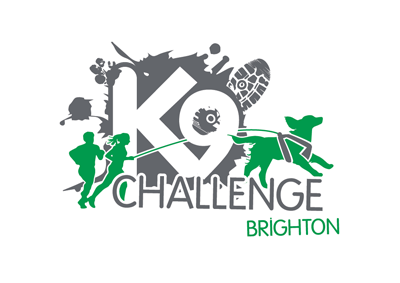 2021 VIRTUAL ENTRIES NOW OPEN
Brighton's friendliest dog event involving a little bit of exercise! 2021 K9 Challenge remains a virtual event. The original Brighton event will return in 2022. Complete 5km, with or without a dog, and earn a medal, tag and bandana. 
A unique, fun, running with dogs event
2021 sees K9 Challenge remain a virtual event, allowing anyone anywhere in England, Wales, Scotland and Northern Ireland to take part. Walkers are also encouraged to enter, this is an event inclusive for everyone.
Why simply walk your dog every day when you can set yourself a challenge and earn yourself and your dog a matching medal! The original Brighton event will return in 2022 where there will also be information/merchandise stalls for your dogs, food and drink, and a huge collection of new friends for your dog(s) to meet and wag their tails at.
CANCELLATION POLICY
Unfortunately we are unable to offer refunds once you've entered, as we begin incurring costs as soon as we plan the event. We will happily discuss deferring an entry, please contact the organisers.
At your own risk
On entering the K9 Challenge, you and your dog do so at your own risk. The event organisers shall not be liable for any injury, damage or loss howsoever suffered by participants as a result of their participation. The event organisers take all reasonable steps to minimise the risk of injury & there is a detailed risk assessment in place that aims to minimise all risks. However, by entering the K9 Challenge, you acknowledge that there may be circumstances beyond the control of the organisers that can lead to unforeseen risks.
Photography & filming at the event
Please note that you may be filmed or photographed whilst taking part in the event and the film/photographs will be used for marketing purposes only. Entering the event means that you are giving your permission to be filmed or photographed.
Information
CONTACT DETAILS
ORGANISING COMPANY
Jo Event Solutions || info@joeventsolutions.com || www.joeventsolutions.com